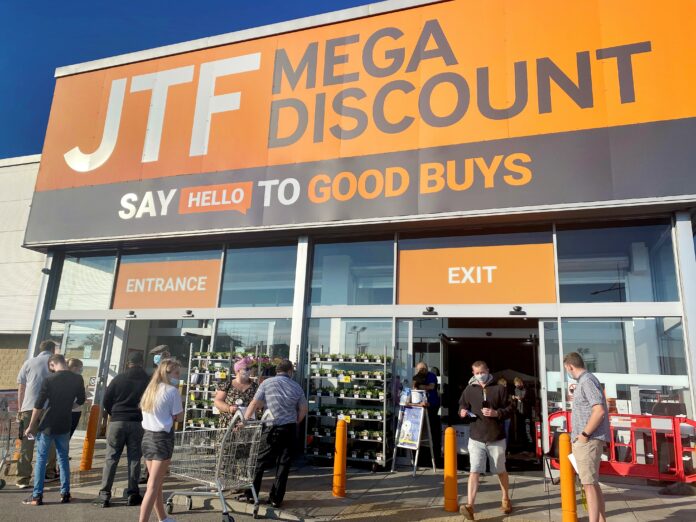 Northern English and Midlands discount retailer, JTF, announced on Thursday that it has launched a crowdfunding campaign that gives investors the opportunity to earn money on a four-year loan to the business, own a portion of the company's shares, and earn guaranteed discounts on goods.
The company said that campaign "introduces a range of investment opportunities, designed to appeal to a variety of investors". Investment tiers start at £50, and are then segmented at £200, £750 and investments over £2,500 being classified as VIP investors. The JTF statement said that all investments will be split, with 95% serving as a loan which will yield a projected 6% interest payment per year, and the remaining 5% will be invested into the Group's shares, at a price of 25p apiece.
Along with unfixed yields on bonds, and equity in the company, JTF said investors will have automatic access to 'a host of exclusive offers and perks', corresponding to their tier of investment. These perks will range from in-store and online discounts on all purchases for the duration of their investment, to discounts on home deliveries, added benefits for friends and family members, and an invitation to the company's AGM.
For the VIP status investors, perks range from £1,000 per year discount vouchers, 10% discount cards, free home delivery, free tea and coffee and £100 of in-store dining at all JTF outlets, and entries into three prize draws, including the potential to win a £5,000 luxury holiday.
Jeremy Coombes, Director of JTF Mega Discount Warehouses, said "We're thrilled to be launching our crowdfunding campaign and our range of investment options. Here at JTF, we've got ambitious plans for growth and expansion over the next five years, and it fills us with excitement to be able to offer investors the opportunity to join the JTF family on this journey, own their very own stake in a thriving business, and enjoy some fantastic perks to boot."
"While the Covid-19 pandemic has proven challenging for businesses across the country, we're proud to have continued serving communities throughout, and we believe now is a fantastic time to become a part of JTF's exciting future."
The company said it has been offering discount goods to customers for over 40 years, with everything from household goods, beauty products, DIY, and garden wares. Over the next three years, JTF plans to open 40 new stores, which it says will create more than 1,400 new jobs. It adds that it aims to float in 2024, when its net assets are expected to be fifty million pounds.