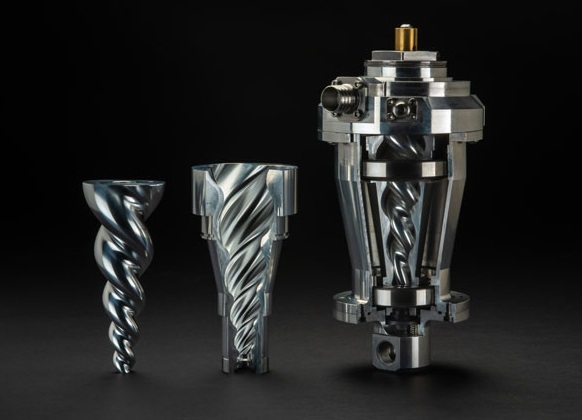 Disruptor Vert Technologies has announced it will embark on a £3 million fund raising process, which it will use to scale-up its production volumes and 'accelerate the development of its technology in new markets'.
The Edinburgh-based company manufactures its proven and patented conical rotary compressor (CRC), which has gained traction with manufacturers in refrigeration; heating, ventilation and cooling; and hand tool sectors.
Vert Technology said that it has been working with 'multiple' manufacturers who have already incorporated the company's CRC into the designs of their future products. It added that it expects 'several' of these products will reach volume sales or licencing stage by the end of 2021.
Vert CEO, Phil Harris, says that the investment is a critical part of rapidly bringing manufacturers' designs with embedded CRC technology to the market. "The longer-term value of the CRC technology will be driven by the strength of market pull from OEMs who want to embed the CRC technology in their own products."
"This stage of funding will accelerate the delivery of the OEM specific designs we are already working on and allow us to develop low-cost, high volume manufacturing techniques that can produce the numbers of units that the OEMs require."
"For this reason, we believe Vert and its CRC technology is a highly attractive opportunity for investors looking for medium-term capital growth potential. The company combines patented and proven technology along with an experienced management team that is rapidly developing strong OEM relationships. This will lead to sales traction across a range of high value and volume sectors and the potential for an established stream of royalty income."
The advantage of the company's CRC technology is that instead of using rotating screws placed side by side to generate compressed air, the Vert technology places one conical rotor inside another, meaning the rotors provide a lower-noise, lower-vibration compressed air solution that is 'still capable of producing exceptionally high pressures'.
The company concluded its statement by saying that: "The technology can be used across multiple sectors with refrigeration, heat pumps, expanders and hand-held tools being viewed as key target sectors. Using in-house software, the complex geometry of the CRC technology is scalable without any compromise on performance. Rotors as small as 80 watt and 40mm long can be designed making the technology suitable for even the smallest application."